"ANOTHER CRIME BY A SCHOOL OFFICIAL"
Poughkeepsie Journal
Tuesday, November 18, 2003
Police: FDR High official stabbed himself
Vice principal charged with false reporting
By Nik Bonopartis
Poughkeepsie Journal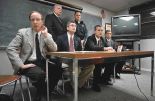 Karl Rabe/Poughkeepsie Journal
Police and Hyde Park School District officials held a press conference Monday at the Hyde Park Police Station, held to announce charges against a Franklin D. Roosevelt High School vice principal, Clinton Knoll. Seated, from left, are Hyde Park schools Superintendent David Burpee, school board President Kevin Sheehan, Hyde Park Police Chief James McKenna and state Police Capt. Frank Koehler. Standing, from left, are Dutchess County Undersheriff J.J. Thompson and school resource officer Robert Benson.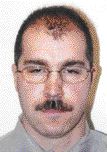 Knoll

An assistant principal who was thought to be the victim of a stabbing allegedly inflicted the wounds on himself, and then lied about it, authorities said.
Clinton Knoll, 35, of Ulster County, was arrested Monday, two weeks after he was found bleeding in a bathroom at Franklin D. Roosevelt High School.
The incident prompted a day-long lockdown and drew resources from three police agencies.
Knoll was charged with falsely reporting an incident and knowingly making a false statement, both misdemeanors.
What police described as a broad investigation began to point to Knoll as more evidence surfaced.
Knoll's arrest was the result of ''evidence, statements gathering and some admissions by the defendant,'' Hyde Park Police Chief James McKenna said.
He stopped short of saying Knoll admitted stabbing himself.
The arrest does not signal the end of the investigation, as McKenna said it will ''continue on a lower scale than it has been the last couple of weeks,'' but does bring some measure of resolution for students and parents, who feared the suspect could have been a student.
At a press conference the day of the stabbing, McKenna said he believed the attack came ''from the student body.'' Monday, he denied making that statement and said police did not limit their search to the student body.
The chief declined to discuss any motive for the incident or to detail Knoll's injuries, saying the evidence needed to be reviewed by the Dutchess County District Attorney's Office.
Parent Felicia Ritters blasted authorities for implying a student may have been responsible for the stabbing.
''They came right out with a statement in the paper saying they suspected it was a student,'' she said.
Rumors were flying
Ritters said rumors widely circulated within the Hyde Park school district and the surrounding community focused on one student in particular.
''All over town, you heard the name of one student,'' she said. ''This kid had to go around feeling like a suspect.''
Such a self-inflicted stabbing -- by an adult authority figure on school grounds -- would be ''very, very unusual,'' said Dr. Michael Welner of the New York University School of Medicine in Manhattan.
''As a forensic psychiatrist, I would see something like this occurring about as frequently as a total eclipse,'' said Welner, who is also chairman of the Forensic Panel, a leading consulting institution. ''In a situation like this, the 'why' is going to be far more interesting than the 'what.' ''
Welner said self-inflicted wounds are usually done to get attention, and typically involve shallow cuts. Although authorities described Knoll's injuries as minor, it was not clear why he was hospitalized for almost five days. Welner said that also is unusual.
''These days, the way hospital care is, after a stabbing, they'll stitch you up and send you out by nightfall,'' he said.
Knoll was charged at 11:53 a.m. Monday, after he had come to Hyde Park Police headquarters to answer more questions about the incident. He was arraigned and sent to Dutchess County Jail, where bail was set at $1,000. He is due back in court Thursday.
At his arraignment, Knoll was ordered by a judge not to make contact with school officials or go to the school grounds. He was suspended with pay from the Hyde Park school district.
''We have to be mindful of his due process rights as an employee of the school district,'' school Superintendent said David Burpee said.
Knoll, who had been with the district for a year and a half, does not have tenure, Burpee said.
Both he and Kevin Sheehan, the school board president, praised state police, the Dutchess County Sheriff's Office and Hyde Park police for the long hours they put into the investigation.
They said they hoped the school's reputation is not soiled.
''The community needs to know we have a safe high school,'' Sheehan said.
Burpee met with the school's faculty Monday morning and will meet with students to talk about the arrest this morning, and school officials are planning a public forum to talk to the greater community. School staff will be on hand to talk to students or staff about the incident.
---
Your participation, suggestions and opinions on all matters will be welcomed, and only by your request, will your correspondence be published on this web site anonymously.
Please contact the Justice Team with any information regarding any matter, by CLICKING HERE or E-Mail address: Administrator@DutchessCountyJusticeTeam2003.us or telephone (845) 454-3036. (All information will be kept confidential and your protection is guaranteed)